Please share a little bit about yourself and your work
My name is Ashlee Espinosa and I am an actor, educator, creator, and coach. I am transforming the methods of teaching and coaching online while helping educators and artists move their business, classes and studios into a virtual format. Through my virtual studio I offers 1:1 coaching sessions along with monthly classes ranging from musical theatre performance techniques to branding and building your online business as an artist. I hold a Bachelor of Music in Musical Theatre from University of Central Oklahoma and a Master of Fine Arts in Musical Theatre from San Diego State University. I recently served as a faculty member at UC Irvine along with many other institutions across California. I recently launched her course YouTube for Artists + Educators to help people create their personal broadcast channel to help people attract their ideal audience, turn them into fans and spread their influence.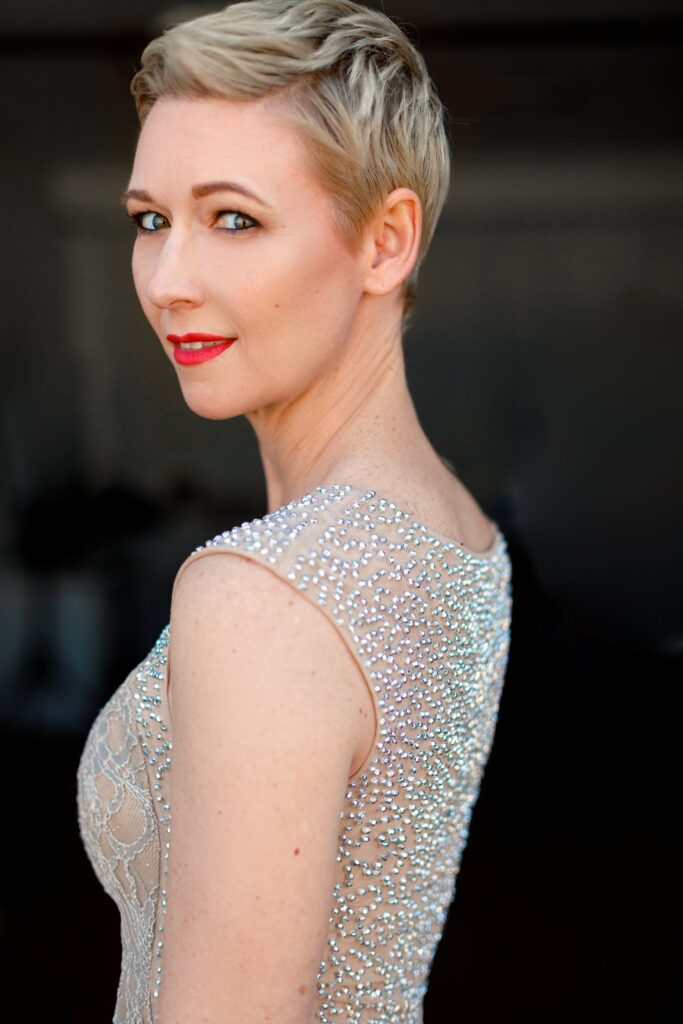 Through my Youtube Channel, I have created a resource of tutorials and videos focused on online teaching tips, Canvas LMS tutorials and actions for actors in musical theatre. I co-hosts the podcast Breaking the Fourth Wall with my husband Tim Espinosa with a focus on creating positive change in musical theatre. Regional performances: Alison Bechdel in Fun Home (Chance Theater), Millie in Thoroughly Modern Millie (Performance Riverside), Princess Fiona in Shrek the musical (Center Stage Theater), Janet Van de Graaff in The Drowsy Chaperone (Welk Resort Theatre), Sally Bowles in Cabaret (Welk Resort Theatre), Evita (Musical Theatre West), Brook Whyndham in Legally Blonde (Performance Riverside). Mary Martin-of-Tours in Sister Act, Caroline Neville in Titanic, Sondheim on Sondheim, Lady Boxington in My Fair Lady, and Basha in Mel Brooks' Young Frankenstein (Moonlight Stage Productions). Abigail Paisley in The Paisley Sister's Christmas Special (Downstairs Cabaret, NY). Industry readings: Ryan Scott Oliver's gothic thriller We Foxes (Willa), Tom Diggs & Jay D'Amico's The Fairy Hoax (Adult Dulcie/Vivian). Recent directing and choreographing credits: American Idiot, Little Women, and The Crucible.
How did you come into your current field?
Umm fear literally, was what led me to this. The fear that i have as an actor my entire career of performing really
propelled me into creating content online because we are all in a world now where we have to do things like you and i are doing from
other ends of the world absolutely being on screen like this you know. Even right now i'm sure we're both like
a little like you know as well and and I kind of jumped into this industry the past couple of years because of
my relationship with performing and knowing what it was like to you know be on a stage and to put yourself out there
and that's something that i feel as an actor i have a little bit more of training from behind the scenes
so i hope you could share that with the world yeah . I started dancing at a young age and just began to love performing.
I see that you are a multi-talented person. You are an actor, director, dancer, educator and more. A common question that can come to anyone's mind that how do you do so many things? When do you get the time?
That's a good question i think what i have discovered in my life is i've almost this word that we're developing of a
creative entrepreneur or an online entrepreneur we're seeing that quite often lately that's kind of been my entire life it's
you know from one job to the next because that's how we work as an actor and so to me it feels normal to have
all of these other things that i do you know one you know today i was meeting with people working on performing in musical theater
and then i was working with someone on a um that sings with a band that we're working on a pop song and then i was helping
coaches create their online course and working with as a consultant for people in sophia i feel like i just say what do i want to do right now
what work do i want to create how do i want to help folks and then on the other end what's inspiring to me because if i'm not inspired to do that
work then i kind of find a way to navigate you know away from it and that's what i did the past couple of years i was a full-time
faculty professor and i just i wasn't fulfilled and so i kind of pivoted um and so i just kind of find time to kind
of do whatever makes me happy in that moment so the people that i am helping i can give it my hundred percent rather than the opposite of that right so
something that you're passionate about.
I stay focused, motivated and prioritise my work.
What's the most interesting work you have done so far in your current field?
It's so hard because i feel like so many things isn't it it's hard to say it is and you know i always make sure
that now in my life that i pick projects that you know i'm passionate about if i do anything in my day now i make sure that
i am really really interested in doing it because i'm kind of at that point you know in my career that the people like even
our interview right now i was really interested in in speaking with you and collaborating with you and that's because it's something i'm
passionate about or interested in i make sure that's a really big focus in my life right now but it took a while to get to that point
um so interesting interesting interesting um you know i directed a production of little women a few years ago at a local college and
it was really interesting because the group of women that i was working with all of the sisters were cast with different um different people from all
over different cultures one was you know a black woman one was someone that was hispanic all the sisters were completely diverse
and it was really fascinating to hear what the audience response was to that and it created a dialogue and that's something we're really working on in our
industry as as theater and musical theater folks is being an inclusive community to support all people so that was that was really
interesting.
What would you like to do in the future in the current field or another?
I feel like I am doing the work I was meant to do right now which is exciting
A message you would like to give to the women of the world, to inspire them.
Follow your dreams follow your heart and do what you really want to do in life even if somebody says
you can't do it well.
Where can people find you online?